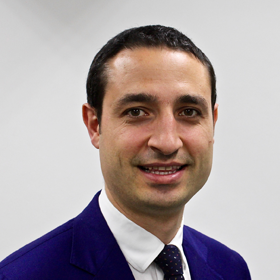 Dr Vito Romano
Mr Romano is a consultant ophthalmic surgeon at The Royal Liverpool University Hospital and an honorary senior clinical lecturer at the University of Liverpool. At The Royal Liverpool University Hospital he is the lead for the Cataract Service and Deputy Director of Clinical Eye Research Centre.
Mr Romano is originally from Italy, and undertook his training in three different countries; Italy, Spain and United Kingdom focusing on corneal transplantation, intraocular and refractive surgery. He completed two fellowships in cornea and ocular surface disease at St Paul's Eye Unit and Moorfield's Eye Hospital, London. He has a postgraduate diploma in Refractive Surgery from the University of Ulster.
His clinical expertise is in corneal and ocular surface diseases, and in particular, patients with keratoconus and endothelial dysfunction. He also has an interest in cornea and ocular surface imaging, particularly in patients with corneal neovascularisation and ocular surface inflammatory diseases.
His research interest is in strategies to improve graft survival and keratoconus. He is an author on over 100 research manuscripts published in peer-reviewed journals and is principal investigator of clinical trials focused on cornea, cataract and refractive surgery. He is also associate Editor for Cataract and Refractive Surgery and BMJ Open Ophthalmology and North West Representative for the Ocular Tissue Advisory Group.
Professional Memberships and degrees
Association for Research in Vision and Ophthalmology
European Society of Cataract and Refractive Surgery
Italian Society of Ophthalmology
Speak to a specialist
Speak to one of our specialists at St Paul's Laser Vision by clicking the button below to call or email.
Contact Us
Book a FREE consultation
Alternatively, why not book a free consultation and speak directly to one of our consultants.
Book now